Annacia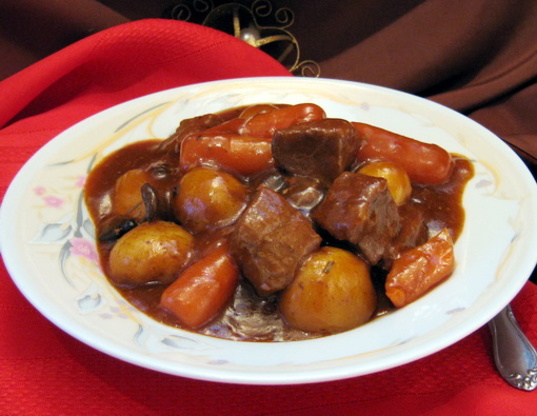 Recipe taken in the issue for the Crockpot in the Coup de Pouce. I tried this recipe without fennel and basil and we liked it :)

Hubby prefers a tomato soup base but I enjoyed the change. I used a good Burgundy and all vegetables mentioned in the recipe. Made for the Beverage Tag.
In a skillet, heat oil at medium-high heat. Add beef cubes in many batches, and brown. Put beef cubes in crockpot.
Deglaze the skillet. Add onions, garlic and cook 5 minutes or until soften. Add beef stock, wine, tomato paste, tapioca, rosemary and pepper. Bring to boil. Pour mixture in crockpot, add potatoes, carrots, fennel and stir. Cover and cook at low heat 8 to 10 hours.
When ready to serve, add basil and stir.