Tony P.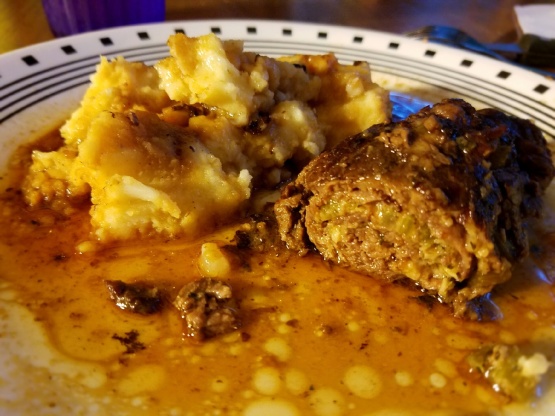 Another great Italian recipe. This will serve 6.
I have never been a fan of Roulade, or it's Italian cousin, Braciole. Either eating it or making it. I find it tedious to make, and the result of making it has always been dry and tasteless and filled with things that you would never normally eat anyway. Not pleasant. However, it was put upon me this evening to make a Roulade. I have one recipe that I keep in my back pocket, but I didn't have any capicola or provolone, and I didn't want to take all day to make it. I found this recipe, and was pleased at how quick it could be thrown together. Something happened when I served it tonight. There was conversations. There were smiling faces. There were clean plates. There was talk about making it again. These were tender, flavorful, and just right. There were a few adjustments to the recipe, and it still turned out wonderful. Regular onions worked just fine. Lambrusco instead of dry red wine, and served on a bed of mashed potatoes worked just fine. Especially with the broth drizzled on it. Would definitely make again.
Mix onions, garlic, celery, parsley, & bread crumbs.
Add salt, pepper, & Pamesan cheese.
Blend well.
Spread 1-2 tablespoons of filling on each slice of meat & sprinkle with olive oil.
Roll up & secure with toothpicks or string.
Brown rolls in small amount of olive oil.
Add stock, wine, & bay leaf.
Simmer for 30 minutes.
Remove meat & reduce liquid.
Serve rolls & sauce over noodles.
Garnish with parsley with desired.