Prep 15 mins
Cook 10 mins
This is sooo good and sooo easy. Goes great with toasted Mozzarella cheese sandwiches
Directions
In large pot, brown sausage, onion and garlic.
Add tomatos, beans, beef broth and water.
Cook until hot.
Reviews
Most Helpful
I'm giving this a four even though I hated it. My husband loved it, so I can't just throw his opinion out the window! I think I didn't like the sausage. Easy enough to make, though.

I was hesitant to rate this soup because I made so many changes, but the output (served with toasted mozzarella cheese sandwiches) was outstanding and it was so easy. I used a 28 ounce can of diced tomatoes, added italian seasoning, 2 cups of vegetable broth and no sausage (we are vegetarians). Instead of the suggested beans I used garbanzos and pinto beans (my favorites). Also I added some carrots and bell peppers for some vitamins A and C (and because we had leftovers). I really liked the suggestion of mozzarella sandwiches with this soup! Will be making this again for an easy dinner.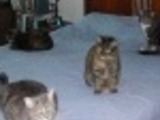 So easy and so tasty! I used Hot sausage and added a little extra red pepper flakes for some heat. I also added a couple more cloves of garlic. I only had regular diced tomatoes, so I added italian seasoning. I used 3 cups beef stock and 1 cup water. I made some french loaf with it, the bread was perfect to dip in the yummy broth. This recipes is definitely a keeper.