Italian Bean and Sausage Soup
This soup has become a family favourite through the years. It comes together fairly quickly, but more importantly, it tastes good. I have "excellent" written in the margin.
Directions
Heat oil in a 4 quart pot. Remove sausage from casing & crumble into oil. Stir in the onions and garlic. Cook over "high" heat, stirring often, until the sausage browns (about 5 minutes).
Meanwhile, cut up the tomatoes right in the can (use kitchen shears).
Add tomatoes w' juice, water, pasta and bouillon cubes to the pot. Bring to boil over "high" heat, stiring a couple of times. Lower heat, cover & simmer for 10 minutes.
Meanwhile, rinse and drain the beans. Add to the soup and simmer for 5 minutes, or until pasta is tender and the beans are heated through.
Most Helpful
This was delicious and easy! I also used hot sausage, and I ended up using 4 cups of hot water. Other than that, I made it exactly as written and served it with a salad and some garlic breadsticks. It was just perfect for a cold winter's night. Thanks for sharing this. Made for Holiday Tag.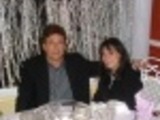 Quick and Easy, and very good! This came together really quickly. I found I needed more chicken broth to keep the soup from becoming a "casserole", so I threw in some frozen turkey broth. This had some additional seasonings, which really increased the taste of this soup. I added some parsley and chopped chives to add a little color to the soup. This is a great meal for a weeknight, after work dinner! Thanks for sharing. Made for Holiday Tag.