Bergy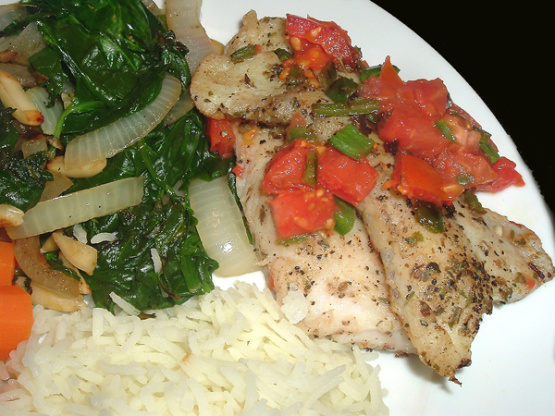 I found this recipe on the internet - have made several changes, added a couple of things etc. We enjoyed it so I thought that I would post the recipe. You may use any white fish for this recipe - Tilapia would be nice. Cooking time depends on the thickness of your filets

This is a very good recipe. I added some garlic and a bit of grated parmesan cheese and we found it very yummy. I will definitely make it again.
If using frozen fish nake sure it is fully thawed and patted dry of any moisture.
Drizzle half the lemon juice on one side of the filet, sprinkle on the pepper & oregano,then pat them on the fish.
Turn the filet over and repeat with the lemon & spices.
Turn you heat to medium, heat a large skillet & lightly spray with oil or Pam.
Add the fish, tomatoes & Jalapeno, cover.
Cook for 3 minutes, flip the fish and stir the tomatoe, cover.
Finish cooking apprx 3 more minutes.
Simple & easy serve with rice or noodles.