Italian Bacon Cabbage Soup
Rita1652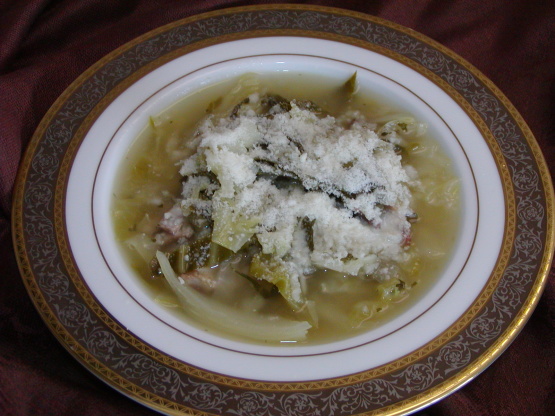 Comforting winter-time food.

The onion used was 6 ounces, the cabbage was 1/2 a head 1 pound 7 ounces which was plenty. The bacon I microwave for 4 minutes till crisp to remove most of the fat. I liked it that way. Parsley I used 1 tablespoon dried. I totally forgot to top it with the cheese and didn't miss it. I `ll do it for lunch and post an updated review on both ways. But without the cheese it was delish! I did have this for lunch topped with cheese. Must say it`s good with and without it!
Melt the butter with the olive oil in a Dutch oven over medium-high heat; add onion and cook until onion softens, about 3 minutes; add cabbage; cook, sitrring often, until cabbage begins to soften, about 5 minutes.
Meanwhile, cook bacon in a skillet over medium heat until cooked but not browned, about 10 minutes; remove from skillet and drain on paper towels.
Chop bacon into squares; add bacon and broth to cabbage and heat to a boil; reduce heat to low and cook 15 minutes; stir in rice.
Heat to a boil over high heat; reduce heat to a simmer; cook, stirring occasionally, until rice softens, about 15 minutes; stir in the parsley; add the salt and pepper to taste.
Spoon into bowls and sprinkle with the cheese.