mliss29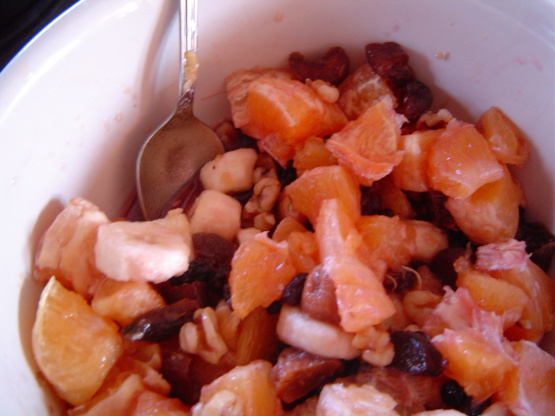 Posted for Zaar World Tour 2005. Oranges and bananas are a great combo, and I like the idea of adding some sweet red wine to a fruit salad! From The Jewish Vegetarian Year Cookbook. Have not tried this recipe yet.

Very good! I used unsulfured apricots instead of figs, grape juice instead of wine, and didn't use any sugar. It is great and the grape juice made it a pretty color. I think it is sweet enough with the bananas and the dried fruit. Reviewed for the Veg*n Recipe Swap. Thanks!
Peel and segment navel oranges, remove all membrane, and chop coarsely.
Chop figs and combine with navel oranges in large bowl.
Slice bananas and add.
Squeeze juice from juice oranges and pour over fruit.
Stir in raisins, walnuts and wine.
Add sugar (if any) to taste.