teresas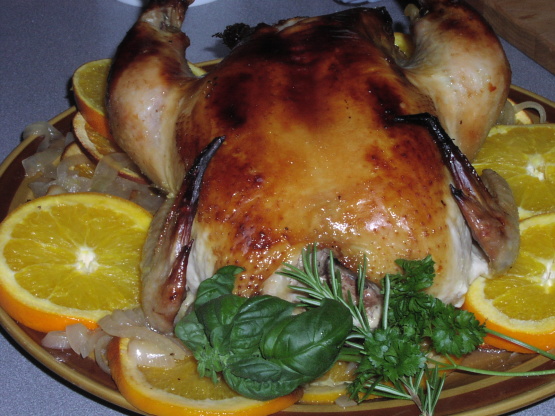 A kosher recipe, but you don't have to make it kosher in order to enjoy it. I haven't tried it yet, but I am planning to. My mother found this recipe on a website.

I was a bit disappointed in the flavor of this recipe...with all the orange used I thought you would really taste it...but we didn't...I did squeeze some of the orange slices on my chicken while eating it and that helped...but by itself the orange flavor wasn't there...the chicken did come out very moist which I loved...this was easy to prepare and the presentation was wonderful...made for Fall PAC 2012
Rinse and dry chicken. Sprinkle with salt and pepper.
Insert one whole orange in the chicken. Place in roasting pan, breast side down, and surround it with onion slices.
Mix juice with ginger and pour over chicken. Roast uncovered at 350 degree F for 1/2 an hour.
Remove chicken from the oven, turn over, and smear with honey. Surround the chicken with second orange slices and return to oven.
After five minute, baste with wine and orange juice. If browning occurs to quickly, cover with foil.
Baste again after 1/2 hour, continue cooking until drumsticks are removed easily, about 1 more hour.
Remove the orange from the chicken, and slice it. Garnish with herbs as per taste. (this is unclear to me, but it may refer to salt and pepper).