Israeli Couscous With Chunky Tomato Sauce
Prep 10 mins
Cook 20 mins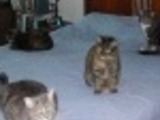 Posted for Zaar World Tour 2005. Try whole wheat couscous for nutritional boost. Can be used to top polenta or pasta. Quick and easy and very low-fat. Saffron is very good but very expensive and some grocery stores only sell it from behind a counter. From Vegetarian Times Cooks Mediterranean. Have not made this yet.
Directions
In small saucepan heat 1 1/2 cups broth until simmering. Stir in couscous and saffron.
Remove from heat, cover and let sit until all the liquid is absorbed, about 5 minutes.
Transfer couscous to baking dish and stir in pine nuts and scallions. Cover with aluminum foil to keep warm and set aside. (Note: to toast pine nuts, preheat oven to 350°F and cook for about 5 minutes.).
Heat remaining 1/4 cup broth in medium saucepan over medium heat and cook onion and garlic until tender, about 5 minutes.
Roughly chop tomatoes and add to saucepan with their juice.
Add basil, thyme and red pepper flakes.
Cook over medium heat, stirring occasionally, until thickened, about 20 minutes.
Season sauce with salt and pepper and pour over couscous. Serve immediately.
Most Helpful
I just made the couscous part of this dish, not the tomato sauce. Very nice, delicate flavour - definately needed salt and pepper for our tastes though. A quick and tasty side dish!
My rating and review comments mirror that of toni gifford's review above. The title of the recipe threw me at first. I have a special couscous in my pantry called Israeli couscous. The grains are about the size of a pinhead, off white and toasted. It is a special couscous imported from Israel. I prefer it over regular smaller-grained couscous. I cheated and used a 26 ounce jar of Bertolli pasta sauce with Vidalia onion instead of a can of plum toms. I added more saffron, too. This will be a fun recipe to experiment with. Thanks for posting it. cg

The dish presents beautifully. Very colorful, and inviting. We thought that the tomato chunks dominated both the flavor and the texture. I'd like to try the sauce with a larger pasta (such as penne) in the future.