Israeli Couscous Salad With Asparagus, Cucumber and Olives
lmkga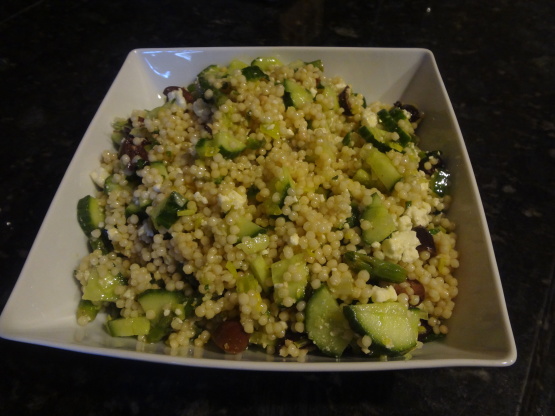 From Bon Appetit, June 2006. I discovered Israeli couscous at a restaurant over a year ago and set out to find it to try in standard couscous recipes. (Believe it or not I found Israeli couscous for sale at Safeway grocery store by sheer accident!) Quite thrilled to find this recipe very recently!
1

garlic clove, peeled and finely minced

3

tablespoons fresh lemon juice

1

teaspoon Dijon mustard
1⁄2 cup extra virgin olive oil
salt, to taste
pepper, to taste
2 1⁄2 cups vegetable broth (homemade is best) or 2 1⁄2 cups chicken broth (homemade is best)

2

cups israeli couscous, toasted

2

cups asparagus spears, cut into 1/2-inch pieces, blanched

2

cups English cucumbers, seeded, cut into 1/2-inch cubes
1⁄2 cup kalamata olive, pitted, cut in half

2

large green onions, chopped
1⁄4 cup fresh mint leaves (plus a few sprigs for garnish-*NOT* dried mint!)
1 1⁄2 cups feta cheese, crumbled
In a small non-reactive bowl combine the garlic, lemon juice and Dijon mustard. Whisk in the oil. Season to taste with salt and pepper and set aside.
Bring the broth to a boil in a medium sauce pan. Stir in the couscous. Cover pan, reduce heat to medium-low and simmer until the couscous is tender and all the broth is absorbed, approximately 10 minutes.
Transfer the couscous to a serving bowl, sprinkle lightly with salt and pepper. Cool the couscous to room temperature.
Once cooled, stir in the blanched asparagus, cucumber, olives, green onions, and 1/4 cup mint leaves. Add the dressing and toss to coat. Gently mix in the feta cheese.
Garnish with mint sprigs.