Islander Broccoli and Cheddar Soup
Islander902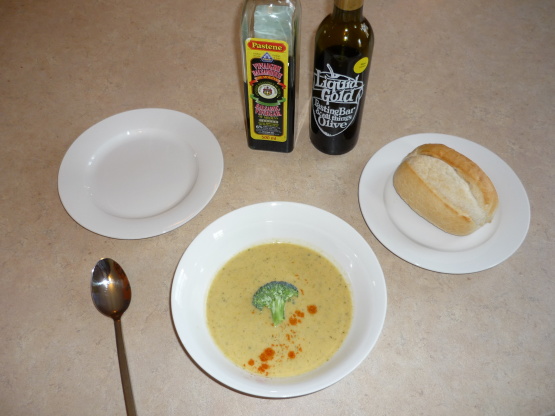 I like to make soups that contain a variety of fresh vegetables. I generally freeze my soups for lunches through the week. This is a nice soup that hopefully contains all the things my body needs for lunch.

This soup was satisfying and delicious! I used a sweet potato instead of regular because I was out, but it didn't seem to affect the color or taste. I sauteed veggies and then cooked in pressure cooker. Thanks for posting!<br/>Roxygirl
236.59

ml Spanish onion (diced, approx 1/3 large onion)

118.29

ml celery rib (diced, approx 2 med stalks)

2

roasted garlic cloves (crushed)

118.29

ml carrot (diced, approx 1 medium carrot)

236.59

ml white potato (peeled and cubed, approx 1 medium potato)

0

head cauliflower (loosely chopped)

2

bunch broccoli (cut into florets)

709.77

ml old cheddar cheese (grated)

1656.13

ml water

14.79

ml olive oil

14.79

ml butter

44.37

ml chicken stock

3.69

ml smoked paprika

118.29

ml heavy cream (to taste)
In a large stock pot, over medium heat, add olive oil and butter.
add potato, carrot, onion and garlic, saute for 2-3 minutes.
add broccoli, cauliflower and celery, saute for 2-3 minutes.
add cold water and chicken stock, bring to boil.
reduce heat to medium-low and cover for 12-15 minutes stirring occasionally.
add cheese and smoked paprika stirring frequently for 5 minutes.
remove from heat.
puree in small batches with hand mixer in two separate mixing bowls (large mixing bowl to hold puree, small mixing bowl to puree, don't puree in stock pot).
*optional* freeze portions now before adding heavy cream.
return to clean saucepan, heat over medium heat.
add heavy cream, stir and serve.
*optional* garnish with blanched or steamed floret and a dash of smoked paprika.