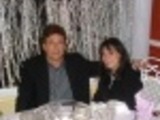 Street hawkers on the Polynesian Islands cook this over coals.
Directions
Combine first 6 ingredients. Cut meat across grain into strips 1 inch wide. Add meat to soy marinade, stirring to coat; let stand 15 minutes at room temperature. Lace strips accordian-style on skewers.
Broil 5 inches from heat 5-7 minutes or until cooked rare to medium-rare, turning frequently and basting with soy marinade. Alternatively, you can grill these. Serve hot as an appetizer.
Reviews
Most Helpful
Mixed reviews on this. Needed something more to give it a wow factor.
The only think I wish I had done differently with this was to make more of it! I used garlic powder, and we poked holes in the meat before putting it in the marinade so it would absorb more. We cooked the steak under the broiler since it was nasty out, but I will definitely try it on the grill next time. I hope the molasses doesn't cause flare-ups.

We asked the butcher to cut the meat in 1 inch slices. Seems like they didn't understand. The slices were so big. Anyway, the meat was in the marinade for maybe 1 hour. And also in the fridge. The steak was so tender and so tasty. Thanks jackie :) Made for Count Dracula and His Hot Bites for ZWT7