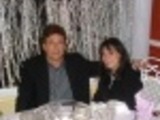 Street hawkers on the Polynesian Islands cook this over coals.
Make and share this Island Teriyaki recipe from Food.com.
Directions
Combine first 6 ingredients. Cut meat across grain into strips 1 inch wide. Add meat to soy marinade, stirring to coat; let stand 15 minutes at room temperature. Lace strips accordian-style on skewers.
Broil 5 inches from heat 5-7 minutes or until cooked rare to medium-rare, turning frequently and basting with soy marinade. Alternatively, you can grill these. Serve hot as an appetizer.