jenne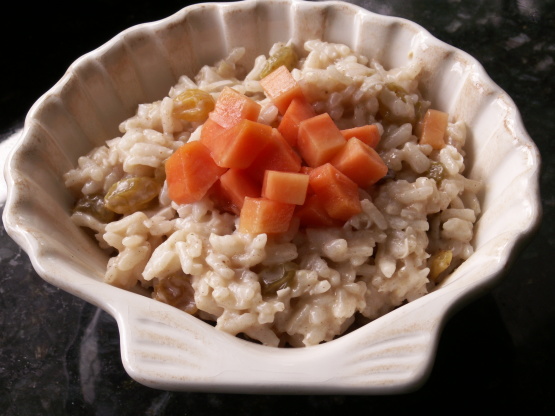 A new twist on an old favorite just for RSC#8! The secret is the fresh grated ginger... ;)

Made this. Loved it. Only gave it 4 stars because it's not the prettiest but dang was it tasty. A healthy alternative to baked rice. We used 1/4C honey instead of sugar and home made coconut milk. nom nom nom. It made quite a bit so we will freeze some for the two of us to enjoy later. Bon Appetite!
Bring water to a boil in a medium saucepan. Add rice & salt. Cover & cook on low heat until almost all the water is absorbed, about 15 minutes.
Add milk & cook uncovered, stirring frequently until about 1/2 the milk is absorbed. Stir in the 1/4c sugar, cinnamon, ginger, and raisins. Continue to cook until the rice is soft & the milk is absorbed.
Stir in coconut. Gently fold in papaya. Taste & add more sugar, if desired.
Serve warm or cold.