Island Pork Tenderloin (Optional Salad)
J-Lynn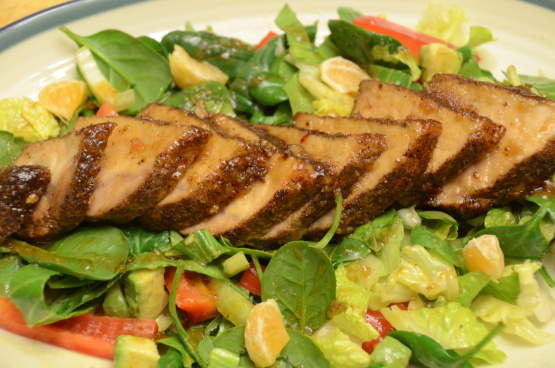 This is the most awesome pork tenderlion ever!! It is from Bon Appetit and is a very poplular "internet recipe"...(I can't believe no one has posted it here yet!) Posting this for ZWT II, Jamaica! The whole recipe includes the pork and salad, which is a lovely salad, but after making it the first time, I usually just make the pork and skip the salad.

Wow! This was FANTASTIC! I only made the tenderloin so I can't comment on the salad, but the pork was out of this world; what a nice blend of sweet and spicy, rub and glaze. I made a couple of small tweaks. I only used one tenderloin (about 1 1/4 lb?) but used all the rub/glaze. I browned the meat in a skillet for almost 10 minutes (flipping to brown all sides) and then transferred to a pan to bake. I'm afraid of undercooking pork, so I baked it for 40 minutes at 350. The end result was fantastic. I have so many other pork tenderloin recipes to try, but I may never move past this one!
Pre-heat oven to 350 degrees.
Stir together salt, pepper, cumin, chili powder, and cinnamon, then coat pork with spice rub.
Heat oil in an ovenproof 12-inch heavy skillet over moderately high heat until just beginning to smoke, then brown pork, turning, about 4 minutes total. Leave pork in skillet.
Make glaze and roast pork:.
Stir together brown sugar, garlic, and Tabasco and pat onto top of each tenderloin. Roast in middle of oven until thermometer inserted diagonally in center of each tenderloin registers 140°F, about 20 minutes. Let pork stand in skillet at room temperature 10 minutes. (Temperature will rise to about 155°F while standing.).
Make vinaigrette while pork roasts:.
Whisk together juices, mustard, curry powder, salt, and pepper, then add oil in a stream, whisking until emulsified.
Prepare salad ingredients while pork stands:.
Cut peel, including white pith, from oranges with a sharp knife, then cut oranges crosswise into 1/4-inch-thick slices. Toss spinach, cabbage, bell pepper, and raisins in a large bowl with about 1/4 cup vinaigrette. Halve, pit, and peel avocados, then cut diagonally into 1/4-inch-thick slices.
Assemble salad:.
Cut pork at a 45-degree angle into 1/2-inch-thick slices. Line a large platter with dressed salad and arrange sliced pork, oranges, and avocados in rows on top. Drizzle some vinaigrette over avocados and oranges. Pour any juices from skillet over pork.