ChefLee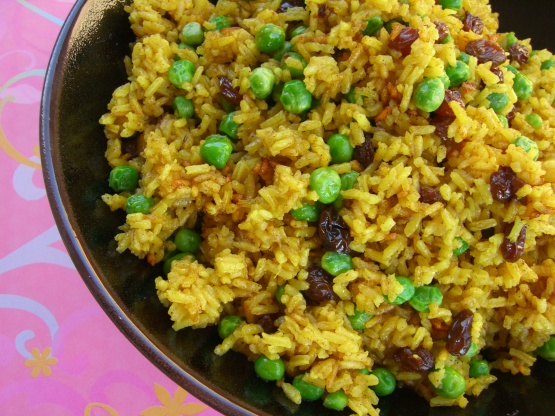 This is a great yellow rice dish. It is really good with calypso chicken dish that I just posted.

I am preparing this rice recipe for my co-workers today. I was intrigued by the ingredients. I thought it was salty at first until I threw the peas in. It is a very colorful dish and mother said it was delicious. The jury is still out for me. Cook time is not long enough, I would honestly cook it another 10 minutes, 20 minutes even if you are making this for a large group. I plan to make again just tweaking a few things.
Combine coconut milk, chicken broth, raisins, and jerk seasoning in medium saucepan. Cover and bring to boil on high.
Stir rice mix into boiling mixture.
cover, return to boil, and cook 2 minutes stirring occasionally.
Reduce to low:cook 20 minutes covered, without stirring, or until rice is tender.
Stir in peas cover and cook 5-6 minutes until peas are heated.