Island Pasticio (Greek Noodle Casserole With Ground Meat)
awalde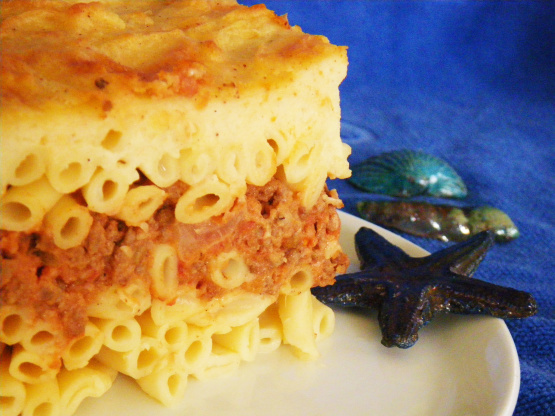 This tasty pasticio recipe is very popular in Greece. If you close your eyes and taste it, you'll travel and you will arrive in a taverna on a Greek Island.

I'm basing my rating on taste and comfort value. Mine didn't come out looking anywhere as good as awalde's but if you hadn't seen her pic this is an A-1 casserole. Mine didn't hold together so that it could be cut into squares. Since we are two (most of the time) I made a half recipe and after dinner tonight we still have two more dinners each! Loved the cinnamon, that's great addition. I will try this again to see if I can get it to firm up, but please don't let this stop you from giving this a try. It tastes wonderful even if you do have to scoop instead of slice it.
500

g noodles (ziti or penne rigate)

Meat sauce

4

tablespoons olive oil

1

onion, chopped

500

g ground beef

450

g tomatoes, pelati chopped

2

tablespoons bread, crumbs

100

ml dry wine

1

tablespoon tomato concentrate

1

tablespoon oregano, dried
1⁄2 tablespoon cinnamon, ground

1

teaspoon salt

3

tablespoons kefalotiri (substitute pecorino or parmigiano cheese)

1

egg

Bechamel sauce

3

tablespoons margarine

3

tablespoons flour

2

cups milk

2

cups water

2

medium mashed potatoes (susbstitute 2 tablespoon potato powder and 1 cup water)
1⁄2 teaspoon nutmeg

2

tablespoons kefalotiri (substitute pecorino or parmigiano cheese)

1

egg
Prepare the pasta in salted water as indicated in the product descriptions. Drain it well and keep warm.
In the meanwhile prepare the meat sauce:.
Fry the onion in the oil until golden.
Add garlic and meat. Cook for 5-8 Minutes until done.
Switch off the heat.
Add all the other ingredients one after the other as indicated in the ingredients list.
If necessary adjust the salt.
Mix milk with water in bowl.
For the bechamel melt margarine and add the flour.
Reduce heat when the flour changes color and add the milk/water mix at once. Stir it quickly until it thickens. Switch off the heat source.
Add all the remaining ingredients and adjust the salt.
Prepare your baking mold with some olive oil.
Put 2/3 of the pasta on the bottom of the mold (at least a 4 liter casserole!).
Add the meat sauce, followed by the remaining pasta and top with the bechamel sauce. Don't stir!
Bake 40 Minutes at 180°C or until the top is golden (heat and timing are basing it on convection oven).