Island Oatmeal (Pina Colada Porridge)
Mandy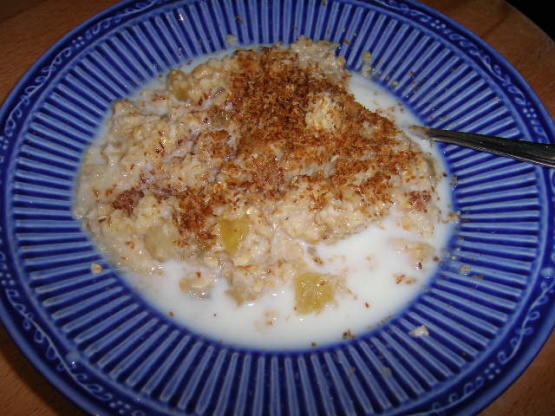 After trying all the different porridge combinations from the British leg of ZWT III. I thought I would create my own for the Caribbean leg. This is quite sweet so no additional sweetner is needed. If you don't want it too sweet, use half juice, half water for cooking. For the toasted coconut I put this under the grill (broiler) as I put the porridge in the microwave and they were both ready at the same time.

I modified this recipe a bit. I used crushed pineapple in juice instead of dried pineapple and juice. Also, I omitted the shredded coconut, but added some cottage cheese. The combination of pineapple & coconut (extract) was so delicious, and I will definitely make this again!
1⁄3 cup quick-cooking oats
2⁄3 cup pineapple juice (or 1/3 cup juice & 1/3 cup water)
1⁄4 cup dried pineapple
1⁄2 teaspoon coconut essence
toasted coconut, to serve
milk, to serve
Combine oats, juice, pineapple pieces & coconut essence in a bowl.
Microwave for 1 minute and give it a stir.
Microwave for a further minute.
Serve with milk & toasted coconut.
Enjoy!