Island Coconut Curry Sauce
Baby Kato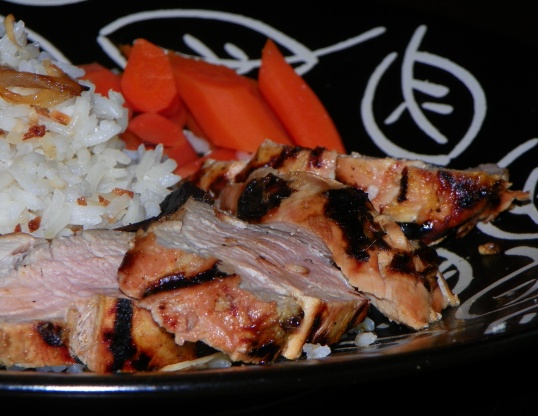 Brush this slightly sweet sauce on shrimp or chicken before and during grilling. The recipe makes enough for 1 1/2 pounds of chicken or shrimp, with some left over to pass at the table. DO NOT substitute coconut milk for the cream of coconut. Coco Lopez is usually found with drink mixers in the grocery, I have found other brand for much less at my local Asian markets. You can also use as a marinade.

We really liked this though I should have chosen something different to cook - I made salmon and used as a marinade for that since that's all I had in the freezer and I really wanted to make this! DH and I really liked it - DD...not so much at first, but it definitely grew on her. For me it needed a bit more salt, but again, with the salmon it just could have been that salmon has a pretty powerful punch on its own - and I will not delete stars due to my selection of fish. We definitely enjoyed the heat and the hint of lime in this sauce. I will definitely make this again with chicken or shrimp as suggested. Made for ZWT8 and the Herbaceous Curvaceous Honeys.
Whisk cream of coconut and fresh lime juice in small bowl until smooth. Stir in green onions, curry powder, cayenne pepper and salt. (Can be made 1 day ahead. Cover and refrigerate.)
Brush half of sauce over chicken or seafood before and during grilling. Pass remaining sauce separately.