IngridH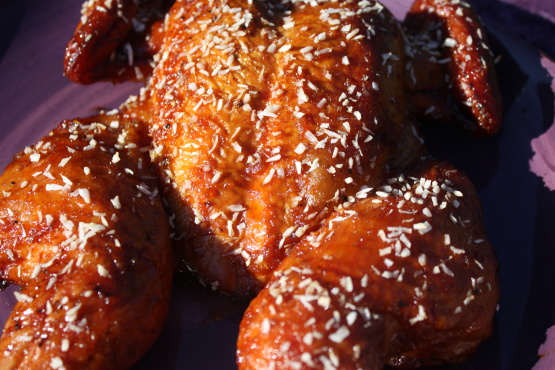 This recipe was given to chef Keith Famie by one of the locals from Bora-Bora. It really showcases the flavor of Polynesia. This is a nice change of pace from your regular roasted chicken. The chicken gets crispy on the outside, but is nice and tender on the inside. Note: Use low-sodium soy sauce so the chicken doesn't get too salty.

I almost always stick with chicken breasts for recipes like this, but in this case, I really wanted to see the full effect of a whole chicken coming out of the oven after finishing up this recipe! Loved the sweet, slightly tangy flavor & even though there were just the 2 of us, I took it to the table before carving it & wished we'd had company! Absolutely great dinner it provided, & I'll be keeping this recipe around! Thanks for sharing it! [Made & reviewed as a THANK YOU for completing the Baker's Dozen Special in this fall's round of Pick A Chef]
Preheat your oven to 400 degrees F.
Glaze:.
In a saucepan over medium heat, whisk the soy sauce, brown sugar, pineapple juice, ginger, garlic, honey and orange zest together. Reduce the glaze by one-third and then cool to room temperature.
Chicken:.
Put the chicken on a wire reack iwth a drip pan underneath. Season outside and inside the chicken with salt and pepper, to taste, then put in the oven.
Roast the chicken for about 15 mintues, then turn the temp down to 350 degrees F. Roast an additional 20 minutes. Brush the glaze on the chicken and return to the oven for an additional 15 minutes. (If you have a larger chicken you may need to increase the time so the chicken fully cooks.).
Remove chicken from the oven and sprinkle the shredded coconut over the whole chicken. Place back in the oven for about 5 minutes, or until the coconut is toasted.
Remove the chicken form the oven and let rest for about 5 minutes. Carve and serve!