Isabel's Jewish Spaghetti
Parsley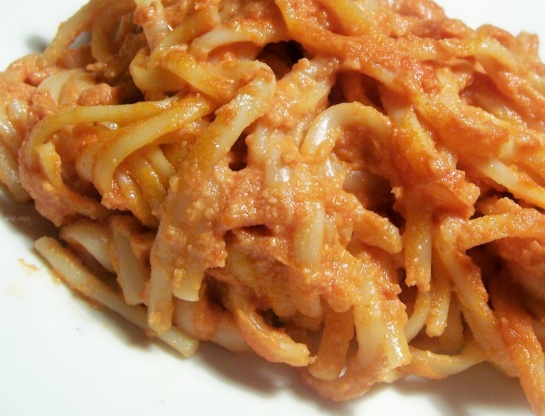 This recipe was posted elsewhere by Celia Yasner, of Atlanta, GA. She says "This recipe was my grandmother Isabel's. It's greatly influenced by the depression when Velveeta first appeared in the markets. She used to serve this during the holidays with a sweet and sour brisket!" I'm intrigued.

Top Review by Oolala
Without the Velveeta (or the butter), it could be Kosher! My Grandmother made ketchup and onion spaghetti and put it in a frying pan. It was terrific and reminds me of this. Maybe leftovers could be reheated in a pan. Just food for thought! (PS-I was born in Omaha!)
Preparation:
Preheat oven to 350 degrees.
In a large pot, prepare Spaghetti according to package label.
Strain Spaghetti.
Return to pot.
Toss Margarine or Butter with Spaghetti until melted.
In a medium sauce pan add tomato paste, tomato sauce, water and ketchup.
Over low heat slowly add Velveeta until it is all melted and fully incorporated into sauce.
Pour sauce over buttered spaghetti and toss gently until well combined.
Pour Spaghetti into a greased 9 x 13 inch baking pan.
Cover with Aluminum foil.
Bake 45 to 60 minutes until firm.
Enjoy!
**Variation: Do not bake.