Iron Skillet Blackberry Cobbler
CindiJ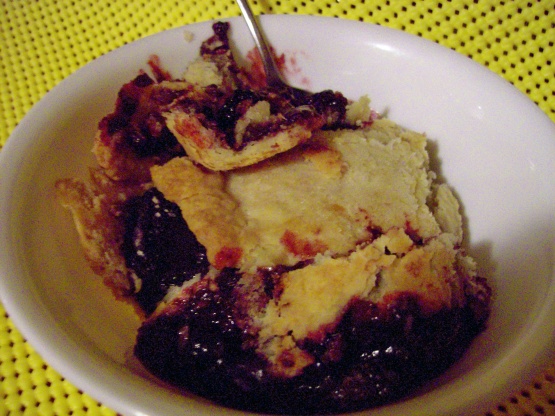 Butter piecrust gets crunchy on bottom and edges of cast iron skillet, with dough pieces in layers with the berries and sugar. Found this in Southern Living a number of years ago, but I don't have the man's name to give him credit. You can use peaches or blueberries as well, blackberries are just my favorite. I have given up picking my own blackberries so now harass the people at the farmer's market until they get some. Frozen fruit works nicely, too. You must use a cast iron skillet!! If you don't have one, go buy one and season it well...it's a kitchen necessity!

Made it three times in as many weeks. Always used more berries and never managed 3 layers, only two. Germans all agog over the concept of cobbler. Looking forward to next year's harvest of berries from the Kleingarten.
For piecrust, combine flour and salt; cut in butter with a pastry blender until mixture is crumbly.
Sprinkle water, 1 T at a time, evenly over surface; stir with a fork just until dry ingredients are moistened.
Roll piecrust to 1/4 inch thickness.
Fit into a 10-inch cast iron skillet.
Trim excess pastry along edges, reserving trimmings.
Prick bottom and sides of piecrust with a fork.
Bake at 375 degrees for 8 minutes.
Remove from oven; set aside.
Cut butter into flour with a pastry blender until crumbly; add 1/2 c sugar.
Place 1/3 of berries in piecrust; sprinkle with about 1/3 remaining sugar.
Sprinkle with 1/3 flour mixture.
Top with 1/3 of pastry trimmings.
Repeat layers twice.
Sprinkle with additional sugar.
Bake at 375 degrees for 50 minutes or until crust is lightly browned.