KatrinaRadia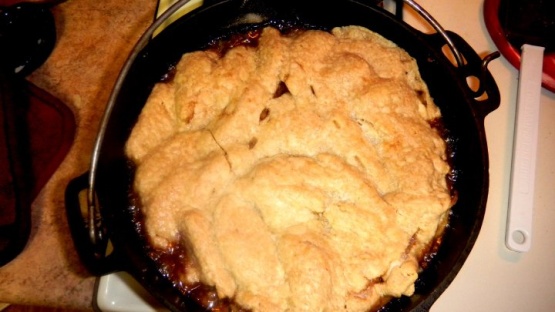 I am the original magazine recipe clipper. This is another one of those recipes clipped from a magazine in years gone by. Try it, you might like it!!!!!

I was SO glad to find this recipe. I clipped it from a magazine years ago, and then lost it. My family requested that I make it again, so I had to go looking. This recipe is OUTSTANDING. I usually also add a little nutmeg. This is a great recipe for beginners. It doesn't always make the prettiest pie, but it is usually the tastiest!!! Thanks, jellyqueen!! :-)
Preheat oven to 350 degrees.
Place butter in large iron skillet and place in oven to melt.
When butter is melted, stir in brown sugar, place back in oven and let that melt together.
Place 1 pie crust on top of the mixture that is in the skillet.
Mix together granulated sugar and cinnamon.
Place apple slices on top of pie crust and cover with the sugar/cinnamon mixture.
Place second pie crust on top and make small slits in crust and seal on the edges Bake 45 minutes or until lightly browned.
Serve warm with a vanilla cream or ice cream.