Iron Mike's White Sharp Cheddar N' Ham Macaroni and Cheese
Parsley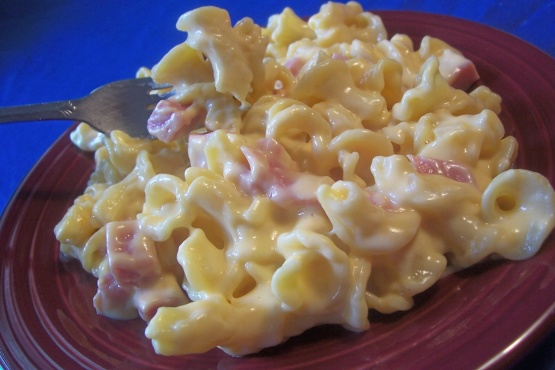 I ate the most incredible macaroni and cheese with ham that my wife brought home from some fancy restaurant in town known for their Mac n Cheese. (It was packaged in aluminum foil which was formed to look like a swan - I don't even WANT to know how much she paid for this dish!) ANYway - Since Kraft doesn't make this in a box, I thought I'd try out my hand (and whisk) at making it from scratch. Below is the result of many trials (and a few errors...) on my journey to Mac 'n Cheese perfection. I hope you enjoy this as much as my family. There are some recommendations at the bottom regarding different substitutions... I'd appreciate any feedback!
Amazing :)) I was out of butter and used margarine and instead of chedar i used Emmentaler slices - it still worked
Begin the cooking process of the macaroni- according to package directions; Add cubed ham (to warm) during the final minute or so of cooking the macaroni; Drain and set aside.
While water is heating and macaroni is cooking, make your White Sauce: Melt butter in a saucepan over medium-low heat; add Flour and Salt, and cook about 1 minute, stirring constantly with a wire whisk until mixture is smooth and bubbly.
Stir the Milk into the mixture and bring to a boil.
Stirring constantly, boil mixture for 1 minute.
Lower heat and cook until thickened, stirring regularly about 4-6 minutes.
(Don't forget to add the ham to the macaroni as it is cooking!).
Remove White Sauce from heat; Add cheese; stir until melted; Pepper to taste.
Combine cheese sauce with the macaroni and ham in a bowl (or the macaroni pot); stir well.
Serve with a yummy green vegetable on the side like green beans or asparagus.
Enjoy!
CHEF'S NOTES: You may use Medium/Mild Cheddar or maybe even PepperJack with this recipe as well; I would add a little"kick" with the milder cheeses by adding a clove of minced garlic, or by using salami pieces instead of ham- Yum!