Iron Chef Chinese - Chef Chen's Mapo Tofu
Rinshinomori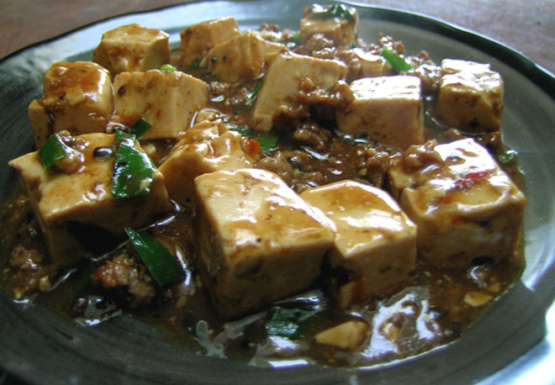 I really respect Iron Chef Chen as a chef. He seems to be a wonderful mentor to many young chefs working under him. He caught my attention as a Iron Chef Chinese on Iron Chef TV program and really enjoyed watching him improvise many recipes. I learned a lot just by watching and copied many of his ideas from the show that I now incorporate into my cooking repertoire. Since then, I've looked for his cookbooks and found 4 in Japanese language. I love all his recipes, especially his famous Mapo Tofu or Mapo Doufu. His dad was a pioneer in introducing Szechuwan cooking to Japanese and he is known as a father of Mapo Doufu in Japan because he was apparently the first Chinese man to cook something so spicy as this dish in Japan. It is now very famous in Japan and Iron Chef Chen Kenichi continues with that tradition at his restaurants in Japan. I wish Chinese and Japanese sauces and other culinary ingredients are known in the West for their proper Chinese and Japanese names like most Indonesian or Malasian sauces ie sambal olek etc instead of using generic names such as bean sauce, etc because it can get very confusing using those generic names. For this dish, you need two Chinese sauces/pastes http://www.foodsubs.com/CondimntAsia.html#bean%20sauce. The first one is Chinese brown bean sauce/paste aka tenmienjan, tenmenjan, or tenmenjiang - it's made from soy beans and sometimes is called Chinese miso type sauce or sweet noodle sauce. It is dark brown in color and has a wonderful dark miso type flavor. The next sauce is Chinese chili bean sauce aka toubanjan or doubanjiang - it has soy beans along with hot chilies and is red color. Don't use regular hot red chili sauce since it lacks the complexity of soy beans found in hot bean red chili sauce. The other two Chinese ingredients you will need for this recipe are fermented black beans (you can usually find these bagged and are ready to use or in bottles) and Szechuwan peppercorn. Szechuwan pepeprcorn is optional though Chef Chen does use it. Chef Chen uses regular tofu (not firm or silken) for his recipe. If you cannot find green garlic chives also known as nira in Japanese, I would use combination green onion and garlic. You want the taste of garlic as well as color of green onion for this dish. Another item that he uses is Japanese chili pepper known as ichimi tougarashi ie crushed or minced red pepper and if you cannot buy this item easily, I would substitute by mincing Chinese, Japanese, Thai, or Korean dry red pepper. This is a very, very spicy version of Mapo Tofu and if you like, cut down on chili pepper and chili oil if you like this recipe milder. However, this dish goes so well with plain steamed white rice that you can eat and eat while your nose is running. I plan to post another of Chef Chen's milder Mapo Tofu recipe using Hoisin sauce in the future.

Hello Nona,

I often make Mapo Tofu Chinese style and have posted within my "recipes" at Zaar/Food.com my version of this dish. However, I learned a few things by making your recipe; like pre-cooking the tofu in salt water, so it will not break apart easily. I also have to say that I did not follow this recipe exactly (sorry to say, but it has to be a 5 star one) and used ingredients which I already had on hand. I used ground chicken, Sichuan Spicy Noodle Sauce (fermented soybeans, chili), chili paste with garlic, added some garlic cloves, spring scallions, fermented black beans (more then the recipe called for)...and Harveys Bristol Cream. The spicy flavors and taste was excellent and surely was a 5 star meal ! Finally, if you are looking for a Mapo Tofu which is a nice combination of Japanese-Chinese flavors, make sure you follow the ingredients listed... for a great recipe!
P.S. I liked this recipe so much that I made it again the next day and also added some shrimps to the dish!
425.24-453.59

g tofu, regular

2.46

ml salt
water, for parboiling tofu

85.04

g ground pork

118.29

ml green garlic chives, chopped in 1/2 inches (nira)

29.58

ml vegetable oil

14.79

ml chinese chili bean sauce (toubanjan or doubanjiang)

14.79

ml chinese brown bean sauce (tenmienjan, tenmenjan, or tenmenjiang)

9.85

ml fermented black beans, chopped finely

1.23-2.46

ml ichimi togarashi pepper or 1.23-2.46 ml japanese dried red chili pepper, minced

4.92

ml chili oil

177.44

ml chicken stock

14.79

ml sake or 14.79 ml dry sherry

4.92

ml soy sauce

4.92

ml sesame oil

14.79

ml szechuan peppercorn (optional)

Cornstarch paste

14.79

ml cornstarch

14.79

ml water
Cut tofu into 1 inch cubes. Heat enough water in a large saucepan, add 1/2 teaspoon salt and tofu pieces. Bring to boil and cook tofu on medium high heat for 8 to 10 minutes and remove from heat. Precooking tofu in water prevents tofu from breaking apart easily later. Set aside.
While tofu is cooking, make cornstarch paste by mixing 1 T cornstarch and 1 T water. Set aside.
Set wok on high heat for 1 minute until hot. Add 2 T vegetable oil and swirl the pan, then add ground pork, stirring to separate.
When ground pork is browned, add Chinese brown bean sauce ie tenmenjan, tenmienjan, or tenmenjiang, Chinese chili bean sauce ie toubanjan or doubanjiang, fermented black beans, and ichimi tougarashi or minced dried red chili pepper. Continue to cook for 1 minute.
Add chili oil, drained tofu pieces, chicken stock, garlic chives, soy sauce, and sake. Stir fry gently for 1-2 minutes.
Add cornstarch paste to thicken and add sesame oil. Swirl gently and cook for another 3-4 minutes on medium high heat. Sprinkle Szechuan peppercorn on top.
Serve with steamed white rice.