Bergy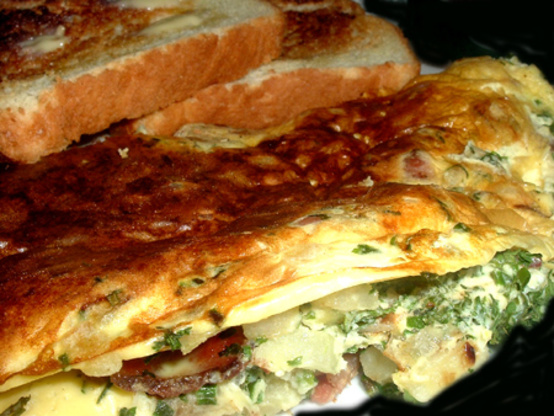 I have cut the bacon back in this recipe - it originally called for 4 oz. For the omelete I like to add 1 tsp flour, 2 tbsp cottage cheese or sour cream & 1/4 cup of milk to the eggs and beat well. The omelete is lighter. Another trick is make this the day after you have made oven fries, make extra fries and then chop them into 1/2" pieces and use instead of the boiled potato.

I used 4 slices of bacon, green onion tops instead of chives, and didn't peel the potatoes. This is great! My only problem is that even though this makes a fairly good amount of food, it seemed like too much for one but not quite enough for two. I hope to be making this again soon.
Fry the bacon until crisp and remove to a plate.
Drain most of the bacon grease from the pan.
Fry the onion in the remaining bacon fat until translucent.
Add potatoes, bacon, herbs.
Salt & pepper to taste.
Pour in the eggs cover and cook over medium heat until the eggs are set.
Flip onto a plate and serve.