Coasty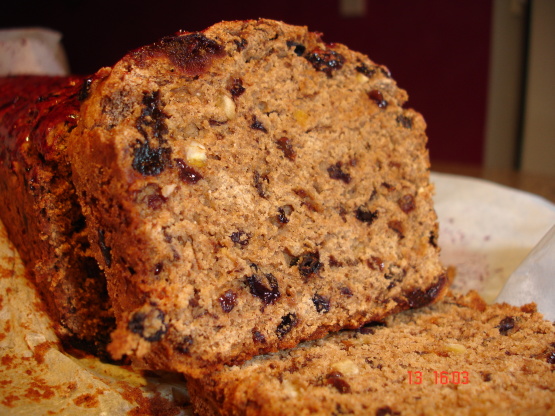 I found this recipe in a Twinings Tea advertorial and thought it sounded interesting, posted here for safekeeping!

Top Review by Coasty
I baked this for afternoon tea today, everyone enjoyed it. Just a couple of changes: I only had currants, dried cherries and some mixed peel. I soaked the fruit in a strong chai tea. A fruity/spicy sweet bread. This was made for the Irish session of the Virtual Culinary Cruise: British Isles & Ireland.
Soak fruit in the prepared tea overnight.
When ready to bake, preheat oven to 150.C and grease & line a 20cm sqyare cake pan.
Stir brandy & sugar into fruit mixture until dissolved and then stir in the eggs.
Gradually fold in flour and spice and combine until mixture is smooth.
Pour into a pan & bake for one hour.
Remove from oven & cover with foil and bake for a further 30 minutes.
Set aside to cool for approx 30 mins before turning out onto a cooling rack to cool completely.
Store for 24 hours before slicing.
Serve with butter & a cup of tea.