Irish-Style Potato Onion Soup
Parsley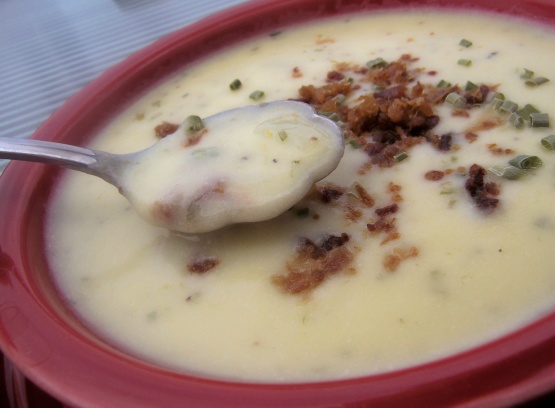 From the About.com Home Cooking blog: " This soup can also be made with the chopped white part of 5 or 6 large leeks instead of onions. Additional garnishes you can use instead of bacon are chopped prawns or a small dice of lobster."

This was DELICIOUS soup! I admit though, I had to make substitutions as I was ill-prepared, thought I had all the ingredients, but did not. I used vegetable broth instead of chicken, and only had heavy cream instead of light cream. No celery seed, so I used celery salt, and just did have enough thyme for the recipe. Even with my substitutions, this was a wonderfully creamy, very flavorful soup ~ I sprinkled some cheese and garlic croutons on top instead of the bacon. Great recipe Poo ~ thanks for sharing. Made for your Week #3 Football Pool Win, October 2009!
Heat a 6- to 8-quart stockpot, add the butter and onion, and cook gently. Do not let the onion brown. Add the peeled and sliced potatoes, milk, and chicken stock.
Add 1/4 cup chives, celery seeds, and thyme. Cover and cook gently for about an hour.
Prepare a roux: Melt the butter in a small saucepan and whisk in the flour. Let the flour and butter mixture (roux) bubble for 2 minutes on medium-low heat, stirring constantly.
Thicken the soup with the roux, whisking carefully to avoid lumps. Cook for 5 to 10 minutes and then puree the soup in a food processor or food blender.
Add the cream and gently reheat, but do not boil. Season with the salt and pepper. Serve with additional 1/4 cup chopped fresh chives and the crisply fried bacon as garnishes.