lazyme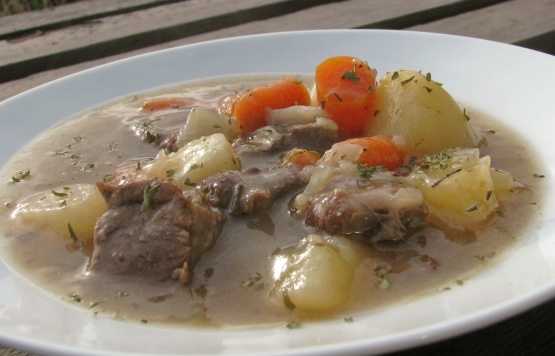 This is traditional Irish peasant fare, full of ingredients that were readily available. Irish Stew is typically a "white" stew, which means that the meat is never browned beforehand. From Classic International Recipes.

Excellent! Another great recipe and I just added this to my favorites, Didn't play with it, real like the taste and texture. I've will added this to my recipe book as is. I agree with some of the other reviews. You could modify this recipe to any style. Along with being incredibly easy, it's a great base recipe and easy to modify depending on your tastes. Thank You! Lynette !! Grpa
In a large Dutch oven combine the lamb, beef broth, onions, salt, pepper, and bay leaf. Bring to a boil; reduce heat. Cover and simmer for 45 minutes.
Skim off the fat. Add the potatoes, carrots, thyme, and basil. Cover and simmer for 30 to 35 minutes more or until the vegetables are tender. Remove the bay leaf and discard.
Combine the cold water and the flour. Stir into the stew. Cook and stir until thickened and bubbly. Cook and stir 1 minute more. Season to taste with salt and pepper.
Sprinkle each serving with snipped parsley.