gailanng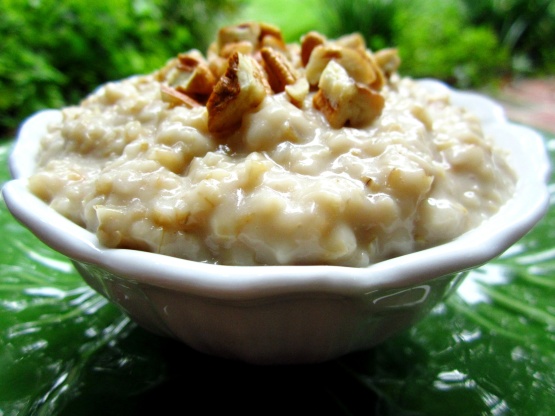 Now here's a breakfast that's healthy, low fat and sodium and cholestrol free. It's also a great source of fibre which does a body GOOD or should I say GREAT! Good Health to you ALL!

Top Review by aeliad
To make it faster in the morning, start it the night before. Combine the boiling water and oats (and cinnamon, if desired) then cover and take off the heat and let them sit overnight. In the morning, you reheat and cook for more like 10 minutes (or until tender) before adding everything else.
Pour the cinnamon and oats into boiling water until and stir until it begins to thicken.
Lower the heat until it begins to simmer and cook for 30 minutes, stirring occasionally.
It's important not to overcook the oats so that you get a nice nutty flavour.
Add the remaining ingredients and enjoy!