GaylaJ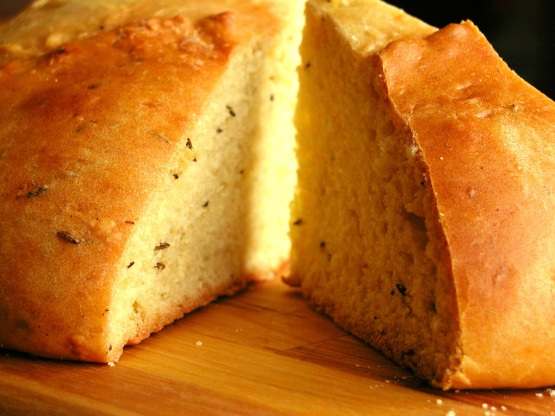 Source: "Irish Heritage Cookbook" Adopted 9/06 (Mean Chef)

Top of my quick bread list. I hate air breads from the store. I of course changed it a bit. I used 1/2 Whole Wheat flour and 1/2 unbleached flour. I also replace the corn oil with coconut oil to increase the health benefits. If I don't have buttermilk, which is most of the time, I use a mixture of 1/2 milk and 1/2 sour cream. I also ditch the raisans most of the time and never do the caraway seeds. I don't bother with brushing the top with milk I do this with coconut oil after it is baked to keep the top soft. My kids like it better that way. I also double it more than not. These are all minor changes to the basic recipe.
Preheat the oven to 350ºF.
Lightly grease a baking sheet or line it with.
parchment paper.
In a large bowl, stir the flour, sugar, baking soda, baking powder and salt together.
In a separate bowl, beat the eggs, buttermilk, and oil together.
Make a well in the center of the dry ingredients and pour in the buttermilk mixture.
Add the caraway seeds and raisins.
Stir until a soft dough has formed.
Shape the dough into a large ball on a lightly floured board (flour your hands if necessary for easier handling).
With a sharp knife, make a cross on the top.
Place on the prepared pan.
Brush the top with the milk.
Bake in the center of the oven until golden brown, 30 to 40 minutes.