This is the most amazing shortbread ever. Flaky and rich, and very very simple, I've never had a shortbread that compares to it.
Directions
Cream butter and sugar together until light and fluffy.
Sift in cornstarch and flour; mix well.
Press into a 10 3/4 by 7 inch pan.
Prick all over with a fork.
Bake in preheated 275 F oven for 30 minutes, then reduce heat to 250 F and bake 1 to 1 1/2 hours longer.
Remove from pan and sprinkle with powdered sugar. Cut into 20 finger shaped cookies.
Reviews
Most Helpful
THE absolutely best shortbread cookies I've ever made and eaten! Huge hit!
I adore homemade shortbread and this recipe is fantastic! It never ceases to amaze me how so few ingredients can make something so delicious, but they can and this shortbread is SO easy to make and utterly divine! I'll definitely be making this again!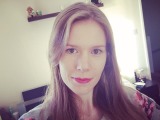 This is without a doubt the BEST short bread recipe I have ever made. I followed this recipe to a