Irish Potato Soup With Bacon
SaNdRa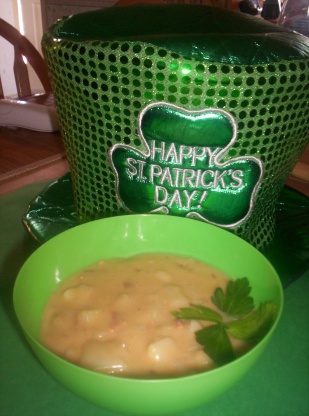 I made this for St. Patty's day (along with the Shamrock Biscuits) and the whole family loved it, even my 15 yr old who is quite picky. It's made from canned soups, so its easily accessible for anyone to make. No 'out of the way' ingredients. thick, creamy and very filling for cold nights. The bacon adds a great flavor and some nice texture. **If you have any questions about this recipe, feel free to leave me a message**
8

baking potatoes, peeled and cut into chunks

1

lb maple bacon, cooked crisp and crumbled

2

large onions, cut into pieces

2

(10 ounce) cans cheese soup

1

(10 ounce) can cream of potato soup

1

(10 ounce) can French onion soup

24

ounces whole milk

8

ounces water

2

(8 ounce) packages monterey jack cheese
Peel & cut potatoes into chunks. Place in boiling water and cook until done (I usually do this for about 15-20 minutes. They need to be a bit crunchy, not too hard-not too soft) drain water when done; set aside.
Fry bacon in separate pot (the one you will use to make the soup). Remove the bacon from the pan and set it aside. Leave the grease in the pan.
Caramelize the onions in the bacon grease. Allow to cool for 5 minutes or so; do not empty the grease!
Add the cheese soups, cream of potato & French onion soups, milk and water to the onion/grease mixture.
Crumble the bacon and divide it into 2 bowls.
Heat up the soup mixture in the bacon grease/onion pan and when hot, add the potatoes and one bowl of the bacon crumbles. Set on medium heat and allow to cook for 30 minutes to 1 hour.
Add half of the cheese while stirring constantly for about 2 minutes.
Allow soup to sit for about 5 minutes and serve with remaining bacon crumbles and cheese on top.
A really nice romaine salad w/purple onions, roma tomatoes and cheddar/garlic croutons *and your fave dressing* make this the perfect meal.Enjoy!