Irish Potato and Leek Soup
Redsie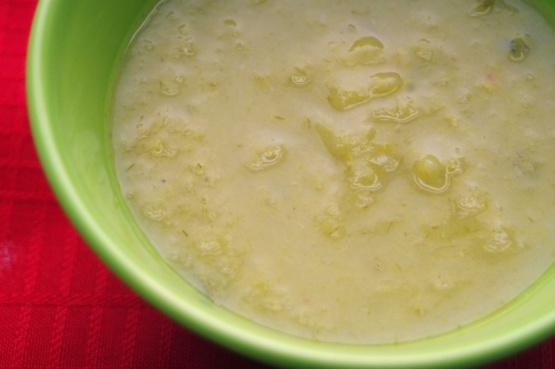 This is a tasty, hearty soup for a cold winter's day or anytime.

LOVE THIS RECIPE! Did not have heavy cream however. I read some of the other reviews and saw that some chefs pureed, so that's what I did! I took probably 1/4 of the potato/leek combination and pureed it and added it back to the broth. No need for cream in this recipe! Also, next time, I would cut back the pepper a bit. Not for me, but my 10 year old thought it was a bit peppery, so I made some homemade croutons to float on his dish to try to get the pepper taste a bit less for him. I LOVED the taste of this recipe, however. GREAT POST LOONY!
In large pan, heat the oil and add the leeks, celery, onion and garlic.
Saute over medium heat, until the vegetables are soft.
Stir in the vegetable stock or water, potatoes, salt, pepper& thyme; bring to a boil.
Simmer over medium heat for 20 to 30 minutes, until the potatoes are easily pierced with a fork.
Add the cream and herbs and return to a light simmer, stirring occasionally.
Remove the soup from the heat and let sit a few minutes before serving.
Serve with warm bread.