DuChick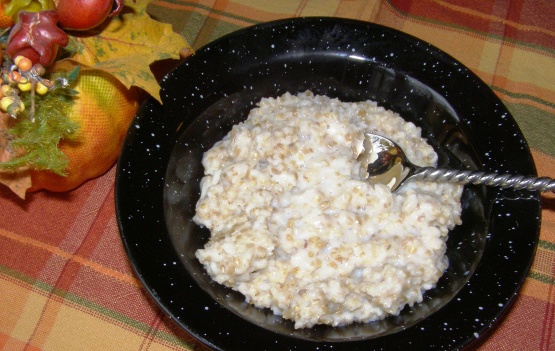 A hearty, healthy way to get your oatmeal. Has a consistency similar to brown rice. Pinhead oats can usually be found in the flour section of your grocery. I usually start the recipe while I am making coffee, and then let it simmer while I shower and get ready for work. By the time I am done with that, I have a nice hot, hearty breakfast waiting for me.

Very good recipe when you want a single serving. This is similar to my steel cut oats (aka pin oats) recipe. Toasting the raw oats in butter really brings out the flavor...be careful not to burn them! It's also a good idea to watch them while they simmer in water, to lessen the chance of overflow from the liquid inside the pan. I replaced the half & half with skim milk and left out the extra 2 tblsp. of butter (trying to watch calories/fat). Very delicious with a bit of brown sugar! MERP'd for Fall PAC '12.
Melt 1 Tbs butter in a small saucepan over med high heat.
When the butter stops foaming, add the oats and stir well for 1 minute.
Reduce heat to low, and let the oats cook for 1 more minute.
Add the water, stir and place the lid on tightly.
Allow to simmer for 20 minutes, or until the majority of the water is absorbed.
Add the half and half and turn off the heat. Replace the lid and allow to sit for 5 minutes.
Add the remaining 2 Tbs butter and salt to taste.
Brown sugar and cinnamon may be added if you prefer sweet oats.