PaulaG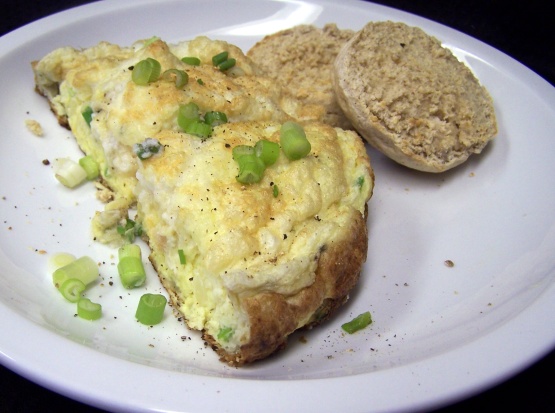 A great way to use up leftover boiled, baked or mashed potatoes. I love omelets and separately whipping the egg whites makes this light and fluffy despite the inclusion of potatoes. In case you're wondering about taste - imagine a cross between a knish and a souffle. Other herbs or grated onions might be good variations.

Yuck. This is probably the worst omelet I have ever made. Whisking the egg whites until stiff? My hand is still sore, and it didn't happen. I suggest all of you use a mixer for that. Takes 3-5 minutes to cook? I don't know what super oven and pan y'all use but that wasn't the case for me. It gets 2 stars because I like the basic idea of this. but i will be changing almost everything else about this recipe. Very bland!
Separate the eggs and beat the yolks. Add, the mashed potato to the yolks, mixing thoroughly. Add the lemon juice, chives, and salt and pepper.
Whisk the egg whites until stiff. Fold the egg whites into the potato mixture.
Melt the butter in a nonstick skillet or omelette pan over low-medium heat. Cook the omelet until golden (3-5 minutes), then run under the broiler to finish and puff the omelet.
Serve immediately.