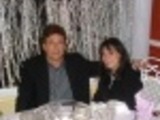 A great accompaniment to corned beef and cabbage, or baked ham.
Directions
Combine cornstarch, sugar, mustard and salt in quart pan.
Add water.
Stir over low heat until mixture thickens and boils. Remove from heat; add butter, vinegar, and horseradish.
Beat a little of hot mixture into egg yolks; then add yolk mixture into pan.
Cook slowly, stirring until sauce thickens slightly. Serve.
Most Helpful
I thought this was fantastic! I used Coleman's for my dry mustard and served this with leftover ham for lunch. Made for CQ 2015

I'm sorry, I was expecting more of a mustard taste, but the only smell/flavor that came through was the cider vinegar. Maybe I did something wrong, but this didn't work for me. Sorry Jackie.