ImPat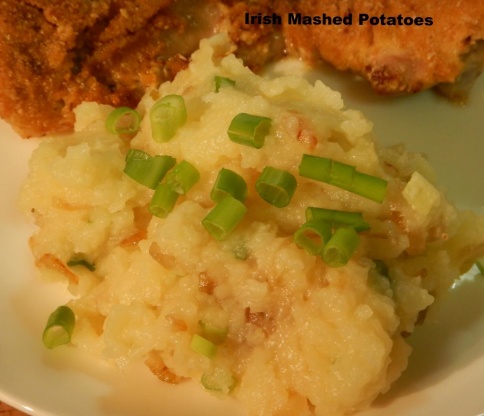 In Ireland, this dish is known as Champ. It has many variations -- you might try it with cabbage, soft garlic, leeks, parsley, chives, peas or even dulse -- but it is always served with melted butter. The best fun is dipping your potatoes into the melted butter.

Top Review by ImPat
I love caramelized onion in my mash potatoes but really enjoyed the addition of the spring onion especially cooked in the milk and then using the warm milk in the mash. I scaled back as a half recipe and there was plenty for 3 of us and we all enjoyed very much. Thank you Sackville, made for Name that Ingredient tag game.
2

large onions, finely sliced

100

g butter

1

tablespoon vegetable oil

8

large potatoes (Irish or King Edward are best)
salt & freshly ground black pepper

100

g spring onions

225

ml milk
Heat 1/2 the butter and one tablespoon of the cooking oil in a frying pan over a high heat.
When the butter starts to bubble, add in the onions and cook, stirring constantly, for five minutes or until the onions start to wilt.
Turn the heat down very low and continue to cook, stirring occasionally, until the onions are evenly browned and wilted, but not crisp.
In Ireland, potatoes are always boiled in their skins, drained and then left in the hot pan for the skins to dry and crack before they are peeled and mashed.
If you like, though, you can also peel the potatoes beforehand, wash the starch off, then boil in salted water until tender.
Drain and mash.
Meanwhile, trim and slice the spring onions, including all the dark green bits.
Place in a pan with the milk and simmer until tender.
Tip the milk and onion and 25g of butter into the mash and beat with a wooden spoon until light and fluffy.
Season with salt and pepper.
Melt the remaining butter.
Serve the mash in a mound on each plate, making a well in the centre of each mound to fill with the remaining melted butter.
Top with the onions.
Serve immediately and encourage your diners to dip their spoonfuls of mashed potato into the pools of butter.