Derf2440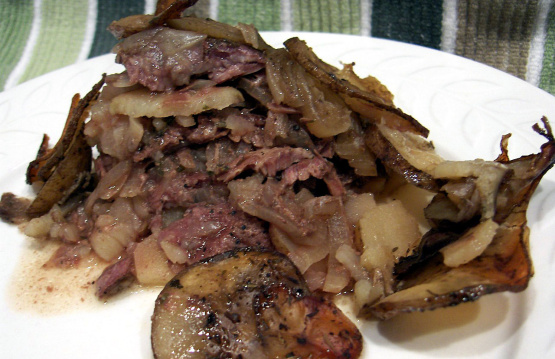 This is comfort food. Serve with Irish soda bread and a mix of carrots and peas. This stew can also be cooked in a crockpot, layer the same and cook on low for 8 hours.

Top Review by Lorac
Dorothy, I was just going to post this recipe but I see you beat me to it. This is an authentic version that is simple and quick. The meat is not browned and requires just potatoes and onions. In my version I use bay leaf instead of thyme, 1 cup beef broth and 1 cup beer instead of water and I don't brown the potatoes. Current food trends seem so dependent on a long list of ingredients and strange parrings. It is so wonderful to eat such delicious simple food.
2

lbs boned lamb (Lamb is traditional) or 2 lbs boned beef, sliced, 1/4 inch slices (Lamb is traditional)

2

lbs peeled potatoes, thinly sliced (a mandolin slicer works best)

3

large onions, thinly sliced
salt and pepper, each layer to taste

2

tablespoons fresh parsley

1

teaspoon chopped fresh thyme or 1⁄2 teaspoon dried thyme

13

ounces water
Trim the meat, leaving a little of the fat and slice.
Season the meat and veggies with salt, pepper, 2 teaspoons of parsley and the thyme.
Layer the potatoes, meat and onions in a large casserole, starting and finishing with a layer of potatoes.
Add the water and cover tightly.
Cook in a preheated oven at 275 degrees for 2 1/2 hours, shake occasionally to prevent sticking, and check liquid now and then.
Do not add unless absolutly necessary.
The potatoes will thicken the finished stew so it should not be too runny.
Just before serving, remove lid and brown the top under a hot broiler and sprinkle with remaining parsley.
The potatoes on top should be nice and brown and crisp.