Mika G.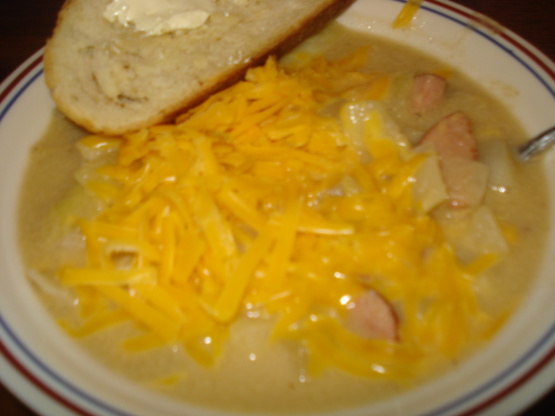 This yummy chowder will really fill your family up! Serve it with a big loaf of bread and you'll be in heaven!

What a fund St Patrick's day soup! Very hearty, very flavorful and full of good-for-you veggies too! Serving amount is way off, I'd say at least serves 8 - we ate 4 bowls and I have a medium tupperware bowl full to the brim for lunches. I ran to the end of my milk so had to sub additional water in its place, the soup was still very creamy and had plenty of flavor. Oh, I also added 1c cubed reduced fat velveeta in place of the cheddar.
Heat the oil in a large dutch oven over medium-high heat. Add the garlic and kielbasa and brown them well, turning often.
Add the next three ingredients to the cooking pot and bring to a boil; reduce heat and simmer for for 20 minutes.
Add cabbage and cook for 10 minutes or until tender.
Whisk the flour and milk together and add to to soup; simmer for 10 minutes, stirring often.
Add cheese and cook, stirring until cheese is melted and soup is heated through.