Irish Dried Cherry Buttermilk Scones
Prep 10 mins
Cook 15 mins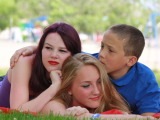 I LOVE pretty, tasty, desserts! English teas and such are wonderful! I think that these scones will enhance any garden party that you are giving.
Directions
In a bowl whisk together 1/2 cup of the buttermilk, the egg, the brown sugar, and the vanilla until the mixture is combined well.
In another bowl stir together the flour, the baking powder, the baking soda, and the salt and blend in the butter until the mixture resembles coarse meal.
Stir in the cherries and the buttermilk mixture with a fork until the mixture just forms a sticky but manageable dough.
Knead the dough gently for 30 seconds on a lightly floured surface, pat it into a 3/4-inch-thick round, and cut it into 8 wedges. On an ungreased baking sheet brush the wedges with the remaining 1/4 cup buttermilk and sprinkle them with the granulated sugar.
Bake the scones in the middle of a preheated 400°F oven for 15 to 18 minutes, or until they are golden.
Most Helpful
Made these delicious goodies this morning for breakfast and they were wonderful with my morning coffee. I must admit that I am not much of a baker, but these were fairly easy to make. The only thing I would do differently next time is to add more dried fruit. I did not have dried cherries so I used dried cranberries instead. Thanks for an enjoyable breakfast!

Just finished baking these and have the kettle on for tea. I've eaten one already and these are delicious.
I did make some additions/changes as I'm hopelessly health conscious. I cut the butter to 1/3rd cup and added a tablespoon of chia seeds and a tablespoon of raw wheat germ. No one ever knows these are added so they eat them without complaint.
Thanks for the recipe.
Very!!! good scones. Love the texture and that they aren't too sweet. Made for the Northern Ireland stop on the GB Tour of the Isles.