Rita1652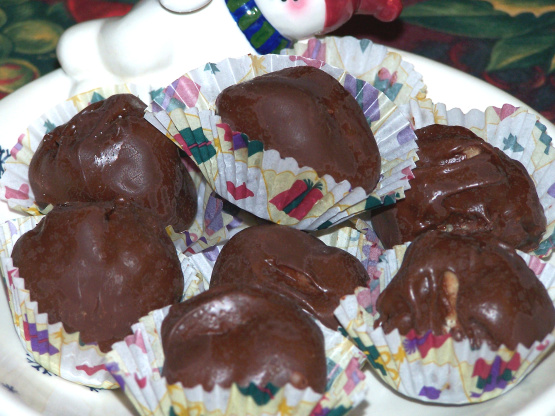 These are for John. Chocolate, Walnuts and Irish Cream liqueur. Like rum balls these get better with age. This makes a nice homemade gift for the Holidays.

at first by wafers i thought you meant a type of chocolate to melt to dip them in, but settled that you must mean the cream filled wafer treats that come in 9 oz packages. I couldnt find ANY just chocolate packages and didnt feel like buying 3 neopoliton so i just grabbed vanilla instead. I also had no way of figuring out how much 1 lb of powdered sugar was so i just guestimated and used 2 1/2 cups. they mixture was rather rock solid after chilling overnight, i may just chill for a few hours next time because i have a very cold fridge, but they were still workable and have gone over well with the family. I plan to use the rest for holiday trays and next time my boyfriend wants them with chocolate wafers, tho they taste allright with vanilla
Mix first four ingredients together.
Chill in a freezer bag overnight.
Roll into balls.
Melt chocolate and paraffin mixing well.
Then dip each ball into chocolate mixture.
Let set.