Irish Colcannon (Winter Vegetable Casserole)
Rita1652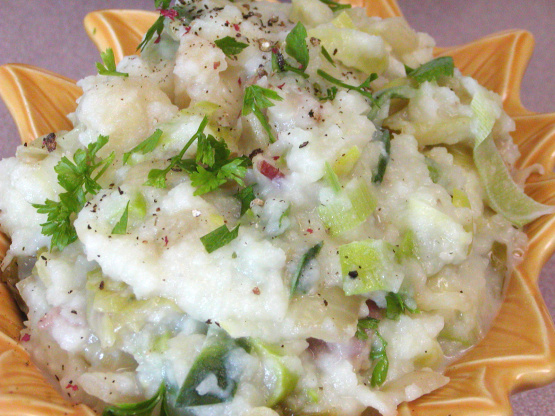 A traditional Irish dish. This dish may also be made in a crock pot.

YUMMY! I'm from Ireland, and I loved this recipe. Traditional colcannon is simply potato, cabbage, milk, butter, salt and pepper (it is a simple, easy, staple meal for some people here). This version gives it an interesting twist, lovely taste. Will try again. Colcannon goes great with bacon or gammon!
Cook the potatoes and parsnips in water until tender.
While these are cooking, chop leeks (greens as well as whites) and simmer in the milk until soft.
Next, cook the kale or cabbage and have warm and well chopped.
Drain the potatoes, season with mace, garlic, salt and pepper, and beat well.
Add the cooked leeks and milk (be careful not to break down the leeks too much).
Finally, blend in the kale or cabbage and butter.
The texture should be that of a smooth-buttery potato with well distributed pieces of leek and kale.
Garnish with parsley.
Colcannon is also made by cooking layered vegetables, starting with potatoes, in a slow-cooker during the day.
Drain vegetables, blend with milk and margarine as above and garnish with parsley.