Rita1652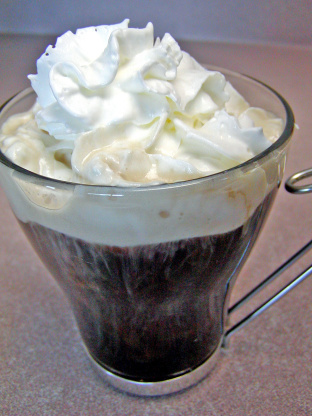 for a cold day or the end of a meal.

Top Review by Bergy
It snowed today (16 March 2002) so I needed a neat soul soother - look at the contents, what can I say - I am pleasantly buzzed, content and ready for bed! Thanks Gay
1

teaspoon sugar
1 1⁄2 ounces Irish whiskey

5

ounces black coffee, made very very strong and hot
Rinse a stemmed glass with hot water.
Put the sugar in the glass, followed by whiskey.
Add coffee, leaving room for the cream.
Stir thoroughly and let settle, before pouring the cream on top over the back of a spoon so it just floats.