Irish Cheddar and Chive Smashed Potatoes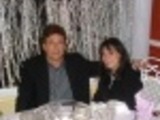 From Wild Oats Natural Marketplace. Looks irresistible and had to post for safekeeping. Note: Since posting this, I have made this several times due to popular demand. It was the star of my Thanksgiving feast.
Directions
Cut potatoes into 2 inch chunks. Place in saucepan, cover with water and stir in 2 teaspoon salt. Bring to a boil over high heat, turn down to a simmer and cook for 15 to 20 minutes, until the potatoes are tender.
Drain potatoes, return to saucepan. Mash potatoes by hand to a coarse texture. Turn heat to low, stir milk and butter. Fold in cheese and chives and add salt and pepper to taste.
Reviews
Most Helpful
Very rich and tasty! We loved them. I did add a little extra cheese because we like lots of cheese. Is there ever enough cheese?!? I added the green onions when I mashed them so my daughter wouldn't really notice they were onions and it worked. She never even mentioned them. I'll be making this again. Thanks Jackie! Made for 123 tag.

These were really good. I enjoyed that the amt. of cheese flavored it, but did not take away from the other flavors.Thanks for the recipe.