Irish Cheddar and Chive Smashed Potatoes
diner524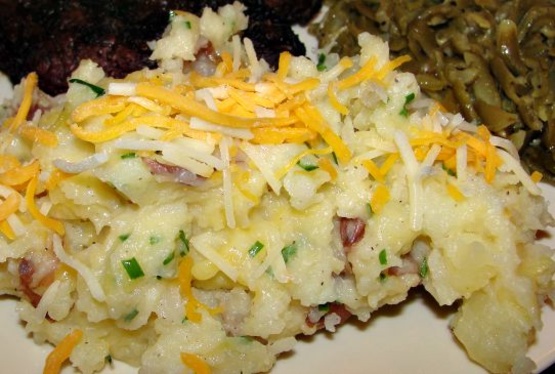 From Wild Oats Natural Marketplace. Looks irresistible and had to post for safekeeping. Note: Since posting this, I have made this several times due to popular demand. It was the star of my Thanksgiving feast.

Very nice potatoes. Easy to prepare, with a nice boost in flavor from the Irish cheddar and chives. Thanks for sharing! CQ2
Cut potatoes into 2 inch chunks. Place in saucepan, cover with water and stir in 2 teaspoon salt. Bring to a boil over high heat, turn down to a simmer and cook for 15 to 20 minutes, until the potatoes are tender.
Drain potatoes, return to saucepan. Mash potatoes by hand to a coarse texture. Turn heat to low, stir milk and butter. Fold in cheese and chives and add salt and pepper to taste.