Boomette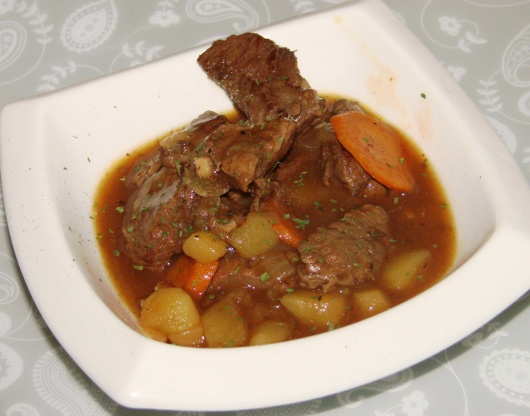 This is a hearty winter stew, made with Guinness beer and red wine.
I give 5 stars for the amazing flavor. But at the end, there was too much liquid that I had to thicken it with cornstarch and water. Maybe another time I'll try using less liquid (but will not reduce the wine and beer). The meat was tender. In the ingredients it's written : 1 inch pieces peeled carrot. I used 1 carrot. But is it more? Thanks One Little Deer :) Made for PAC Fall 2011
Heat olive oil in heavy large pot over medium het. Add beef and saute until brown on all sides, approximately 5 minutes. Add garlic and saute for another 1 minute. Add beef stock, Guinness, red wine, tomato paste, sugar, thyme, Worcestershire sauce and bay leaves. Bring to a boil. Cover, reduce heat to medium low and simmer for an hour.
Melt butter in saute pan. Add potatoes, onions and carrots. Saute 20 minutes.
Add vegetables to beef stew. Simmer uncovered for 40 minutes. Spoon off fat. Add parsley and salt and pepper.
Can be prepared two days in advance.