3 Reviews
I took this in my bento box for lunch today, and I was very pleased. It looked so pretty and cheery at lunchtime, and it tasted as good as it looked. Since this was just for my lunch, I cut the recipe by 4 (I used 1 large and 1 small egg). I used brown rice, which is just personal preference, but I think the combination of the nutty rice with the sweet, soft egg and slightly salty beef was a winner. Next time I would cut down on the sugar in the eggs, and increase the seasonings in the beef, but that doesn't reflect on the recipe, just my personal taste. I'm sure this will be a staple in my lunch rotation!

This was super easy, quick and tasted pretty good. Every once in a while I put "home" Japanese dishes out for my family - they love them. My one year old enjoyed it as well as my husband. If you have a rice cooker - you can just get the rice going while you do the rest and both should be ready on time.
I really liked this as a lunch dish, and it has a great presentation. For me, it has a great balance of flavor with the sugar (my DH asked what made it sweet-tasting), salt, sake, and soy. Thanks, Duonyte! Made for Please Review my Recipe Tag.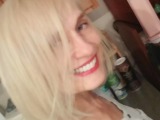 Iri Iri Pan Pan Aka Mom's Super-Scrambled Eggs and Ground Beef