Irene Stewart's Ham & Macaroni Casserole
Derf2440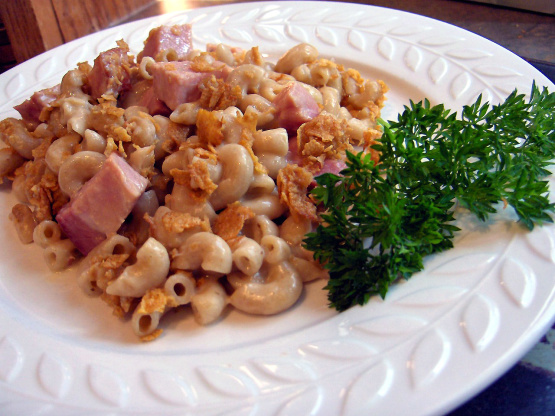 This recipe is from the archives of Pioneer Lodge, a Seniors residence. This is an easy recipe, quick to put together and then just bake it. Serve with a salad.

Tasty quick and easy dish, I used more macaroni than the recipe asked for, which was probably a good thing because it was quite 'runny'. But had a great flavour and everyone liked it. Thanks for posting =)
Heat together the soup, milk, cheddar cheese, celery salt, and Worcestershire sauce until bubbly, stirring frequently.
Add ham.
Add mixture to cooked macaroni. Pour into a 2 quart greased casserole dish.
Top with cornflake crumbs.
Bake at 350 degrees Fahrenheit for 45 minutes.