Iraqi 'summag' Salad - Sumac Salad.
Um Safia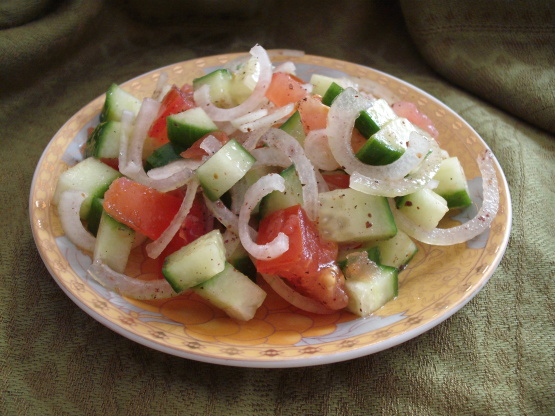 This is a recipe for a very tasty salad using the Middle Eastern spice Sumac / Sumaq. In Iraq, it is lmown as Summag - hence the name Summag salad. It is easy to make & comes fromm an Iraqi blog on the 'net.

I enjoy cucumber salads & am always looking for a new way to serve them. This was my first experience with sumac. I really liked it & will definitely be looking for more recipes to use it. Thank you for sharing your recipe & expanding my spice cabinet!
Peel the cucumbers in stripes. Slice the cucumbers in half, length-wise. Slice these halves into semi-circles, each no more than 1-2 mm thick. Put the cucumbers in the salad bowl.
Chop the tomato into 'salad size' pieces- not too large and not too small. Add to the cucumber.
Slice the onion into long, pieces and add to the tomato and cucumber.
Drizzle about 1 tablespoon of olive oil over the salad and add the sumac and salt to taste. Mix well. Enjoy.