Iraqi Qeema (Stew of Chickpeas and Diced Meat)
Sahar A.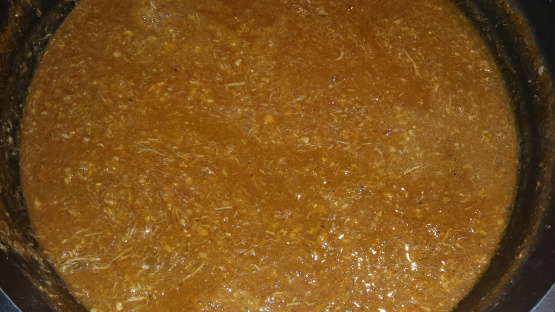 Qeema in the Iraqi culinary lingo is a traditional stew of finely diced meat (and hence the name qeema, which, etymologically is an ancient Akkadian word, which means 'chopped into small pieces) with split chick peas and a dried variety of small sour plums, called aloocha in middle and southern Iraq. Margat qeema is traditionally associated with the holy month of Muharram (the first in the Islamic lunar calendar year). On 'ashour -- the tenth day of this month -- this stew along with rice, hareesa (wheat porridge), and zarda w'haleeb (yellow and white rice pudding) are distributed to neighbors and passers-by in commemoration of the death of Imam Hussein, grandson of the prophet Mohammed, and religious leader at the time. When he went to Kufa to press his claim to the caliphate, he was killed in battle on the plains of Karbala on the tenth day of Muharram. In consistency, this stew is rather dense. For an authentic flavor, instead of lime juice use 1 teaspoon crushed dried lime, seeds removed (also known as laymoun Omani), available at Middle Eastern stores. Iraqis call it noomi Basra.
Dice lamb into 1/4-inch cubes.
In a medium heavy pot sauté meat in oil, stirring occasionally, until all moisture has evaporated, and meat starts to brown, about 10 minutes.
Add onion and stir until transparent, about 10 minutes. Add garlic and turmeric in the last minute.
Meanwhile, boil chickpeas until almost done (about 15 minutes), and drain.
Add the chickpeas to the pot along with the rest of ingredients. Mix well, making sure there is enough liquid to cover ingredients. Add some more hot water if needed. Bring to a quick boil, then reduce heat to medium-low, and let stew simmer gently, covered, about 45 minutes, or until sauce is nicely thickened. Stir 3 to 4 times while cooking to prevent ingredients from sticking to the bottom of the pot. Sauce of this stew should be thicker in consistency than that of regular stews.
This stew is particularly delicious with white rice and fresh radish and radish leaves.