Iraqi Pink Rice Plow Ahmar
COOKGIRl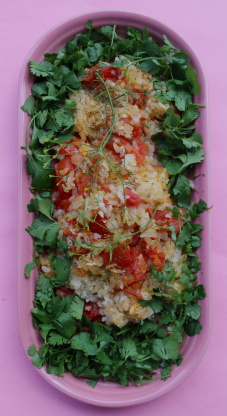 Mama Nazimas Jewish Iraqi cuisine.

First I cut the recipe in half, used medium grain rice which was rinsed and allowed to drain and dry out overnight. A saute pan was heated to medium heat and the onion and celery together softened for a few minutes, then fresh garlic another minute. Added freshly roasted tomato sauce, fresh organic tomatoes, and chicken broth. Brought to the boil, covered and simmered for 20 minutes. After 20 minutes the pan was removed from the burner and the rice sat a further 10 minutes, covered. Plated then arranged fresh cilantro around the rice and fresh dill on top. Dried dill was used in cooking the rice and fresh for garnish and I would increase the dill to 1 1/2 teaspoons. I would also strongly recommend only fresh cilantro and not stir it into the rice but use it as garnish. Served with Recipe #14255 (minus the tomato sauce) and simple roasted beets. Thanks for posting!
Heat olive oil.
Add onion; fry until translucent.
Add washed rice; stir 2 minutes.
Add tomato sauce, tomatoes, celery, salt, dillweed, pepper and garlic powder.
Add 3 1/2 cups water.
After it comes to a boil. turn heat to simmer.
Cover and cook until rice is tender; do not open lid for 30 minutes.